Demand Forecasting and Supply Chain Synchronization
Plan, Collaborate, and Optimize Your End-to-End Business Operations.

One Stop Solution for Transportation & Logistics
Neurored integrates with any and all of the leading systems in the world and helps you:
Manage relationships across multiple partners and stakeholders
Integrate and communicate with existing ERP, WMS, and CRM systems
Leverage pre-integrated, niche technologies from 30+ trusted players in the industry
Complement your systems using our diverse and adaptable software offerings
Supply Chain Visibility
Take advantage of Neurored's Real-Time Multimodal Transportation Visibility solution and empower all stakeholders with notifications and powerful analytics.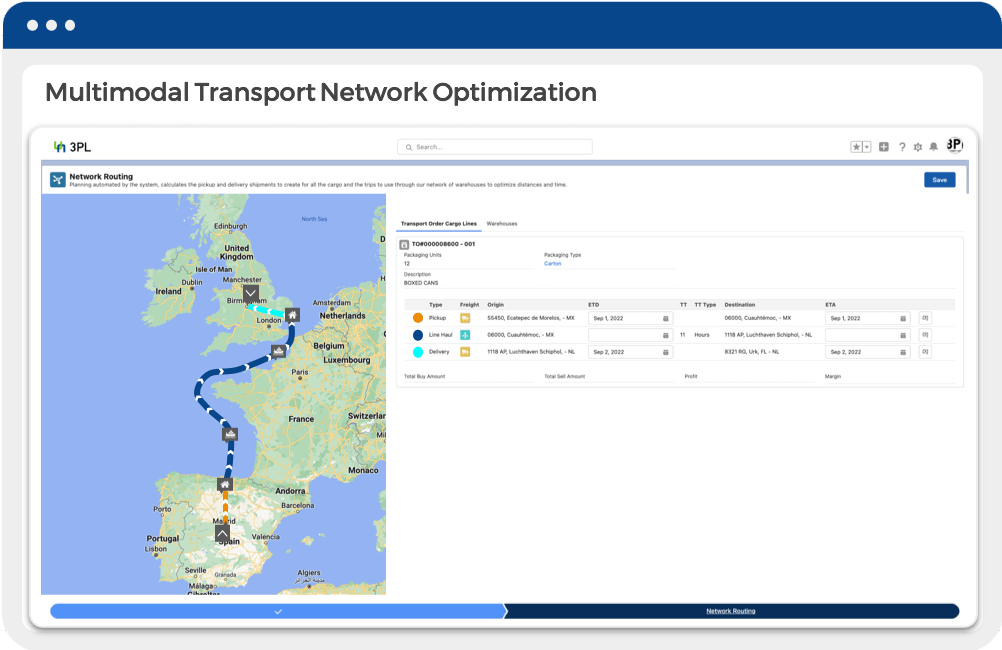 Transportation & Logistics Optimization
Achieve excellence by optimizing your pickup-to-delivery network across order consolidation, transport dispatch, cross-docking, warehousing, and last-mile delivery.
Supply Chain Collaboration
Bridge communication gaps, enhance customer brand loyalty and improve collaboration with vendors & partners through a trusted digital experience community portal.
Benefits of Demand Forecasting and Supply Chain Synchronization
Accurate Demand Forecasts
Get accurate demand forecasts to run lean and save your business time and money
Neurored's Supply Chain Management Software integrates with all leading business systems
Better Capacity Utilization
Avoid wastage in contracted transportation capacity by optimizing with Neurored
Accurate forecasting help businesses mitigate the risk of volatile market demand
Boost your productivity by leveraging customized triggers and automation
Optimized delivery, improved visibility, and reduced costs always make customers happy
Improved Customer Satisfaction
Accurate Demand Forecasts
Get accurate demand forecasts to run lean and save your business time and money
Accurate forecasting help businesses mitigate the risk of volatile market demand
Boost your productivity by leveraging customized triggers and automation
Neurored's Supply Chain Management Software integrates with all leading business systems
Better Capacity Utilization
Avoid wastage in contracted transportation capacity by optimizing with Neurored
Improved Customer Satisfaction
Optimized delivery, improved visibility, and reduced costs always make customers happy
Accurate Demand Forecasts
Get accurate demand forecasts to run lean and save your business time and money
Accurate forecasting help businesses mitigate the risk of volatile market demand
Boost your productivity by leveraging customized triggers and automation
Neurored's Supply Chain Management Software integrates with all leading business systems
Better Capacity Utilization
Avoid wastage in contracted transportation capacity by optimizing with Neurored
Improved Customer Satisfaction
Optimized delivery, improved visibility, and reduced costs always make customers happy

Sentury Success Story
"Thanks to Neurored's Salesforce expertise, we have launched our vision of an interactive customer portal. Our customers now have detailed, real-time visibility of their shipments and are notified of relevant events as soon as they occur, even if the shipment has multiple drops."
Maxwell Wee

Werner Enterprises Success Story
"We have streamlined pricing numerous lanes by multiple teams by having the data all in one place. Neurored's solution has eliminated the time we used to spend on Bid consolidation and creating Pre-Bid Summaries."
Rachel Schulz, Associate Director of Logistics Pricing
Holcim Trading
"The app allows us to manage our entire front and middle office function with seamless connection to our back office, therefore, integrating all the different systems to give us a complete and true 360° view of our customers and suppliers with even capabilities to open the tool to third parties for collaboration and exchange of information."

Sentury Tire USA
"We approached Neurored with a very specific idea of what we wanted and thanks to their Salesforce expertise, we have launched our vision of an interactive customer portal. Our customers now have detailed, real-time visibility of their shipments and are notified of relevant events as soon as they occur, even if the shipment has multiple drops."

Ash Grove
"Neurored's Transportation Management App has digitally connected our forecasting and importing processes, providing us with real time visibility into our inventory from source to customer, worldwide. Thanks to Neurored, we now automatically reconcile actual logistics costs against estimates, protecting margins while meeting our customers' high standards."

Interra Global
"Neurored helped us unify and streamline our global supply chain operations. Working with their solution gives us detailed tracking information. Team Neurored's professionalism in meeting deadlines, managing expectations, and communicating with us has been just what we were hoping for from a Salesforce Partner, and has been an absolute pleasure!"

Let's Get Started
Schedule a Demo Now